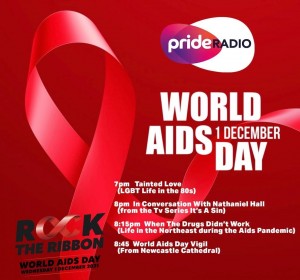 World AIDS Day 2021
Listen again to our special World AIDS Day broadcast. We've unique documentaries, interviews, music that moved a generation and a special vigil from Newcastle Cathedral which will be streamed on our facebook page.
Remembering World AIDS Day on Pride Radio
TAINTED LOVE A special documentary on LGBT life in the 1980s – the music, the culture, the history – with Stu Smith & Tony Mac.
Broadcast Wednesday 1st December 2021
In conversation with Nathaniel Hall from TV Series It's a Sin
Broadcast Wednesday 1st December 2021
WHEN THE DRUGS DIDN'T WORK – tells the story of the HIV/AIDS pandemic in the mid 80's here in the North East through the eyes of two people who were caring for and helping those with the illness. Jackie was a nurse who cared for those who were dying of AIDS and Patrick worked with a group trying to help and educate the local gay community about the pandemic
Broadcast Wednesday 1st December 2021
HEARTBEATS POEM by Melvin Dixon read by the Pride Radio presenters
Melvin Dixon's poem, "Heartbeats," portrays the steady atrophy of someone suffering a fatal disease
Broadcast Wednesday 1st December 2021
We join the Reverend Claire McClaren from Newcastle Cathedral for our World AIDS Day Vigil
Broadcast Wednesday 1st December 2021