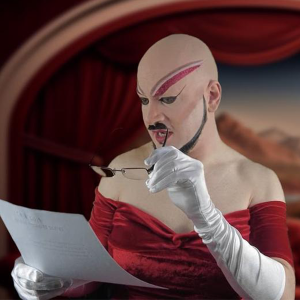 Snatch Talk
A new series of SnatchTalk where The Velvet Snatch once again covers Newcastle Drag Idol. The series contains strong language and adult themes. Over 18'2 only
Follow The Velvet Snatch on Instagram @thevelvetsnatch
Snatch Talk
All Star Winners
"Bet you didn't expect to hear from SnatchTalk again so soon, but how could we not with the one off Drag Idol AllStars Winners coming up? Here's a little run-through of each of the 16 times the Newcastle Drag Idol competition has ran since 2006 and the various contestants and winners over the years since. As well as some healthy speculation as to which previous winners we can expect to perform at the show on Sunday the 24th of September at Boulevard, has Cris really announced everyone?
Here it is FINALLY, the Final of Drag Idol 2023. This video took a very long time to record and edit with the studio sections being delayed, The Velvet Snatch being ill, and the sheer amount of things that happened on the night so thank you for being patient and please share this video so that everyone that is interested gets to watch it! The final at Boulevard was amazing as our four finalists: Arya Quinn, Dyldo, Ruby, and Vick The Prick, competed for the crown. They could do any performance they liked without a time limit and with use of the huge digital screen, and then, provided they got through the first round, they had to bring back a previous number from the competition, updated for the big stage. What would they all do? Well that's what I'm here for. Including exclusive behind the scenes interviews and my own unwanted opinions on everything. this is Snatch Talk !
It's another long one today as honestly the performances were so good. The Velvet Snatch ended up using bigger clips of them just so you could see how amazing they all were. It was the semi-finals of the competition this week and rather than the standard theme we had Disney Villains where each of the remaining contestants took on the role of a different villain to impress regular judges Ophelia Balls, Penni T, Plastiq, and Miss Rory. Also in exclusive backstage interviews we get to hear from the contestants, organiser and sound engineer Cris Howe, and judges Plastiq and Penni T on whether their week 1 predictions for the final had come true or not!
It was props and live week at Drag Idol 2023 and we've got a lot to talk about. it's a chonky episode with each contestant having to do a 3 minute performance with their given prop, then doing a 2 minute live with the aim to impress regular judges Ophelia Balls, Plastiq, Penni T, and Miss Rory. Also The Velvet Snatch interviewed a lot of people this week including the contestants, guest judge Frida Sapphic, Louise from LAH Photography, and Mea T Cleaver & Laila Saggitaria about their new podcast!
We've had another week of Drag Idol 2023 in Newcastle upon Tyne and it was a special one for the remaining 10 contestants and The Velvet Snatch was there to catch it on camera and bring you some exclusive interviews. Here's your TLDR of the night, Snatch Talk! For week 3 the contestants would be working in teams with the theme of "Icons" and had to impress the regular judges Ophelia Balls, Plastiq, Penni Tration, Miss Rory and guest judge, 2018 winner Gladys Duffy
This was an absolutely sensational week and if you weren't there then you missed out. The Velvet Snatch wasn't there but sent their cousin Candy Snatch along to film the event and grab interviews with new judge Plastiq, and contestants KeeLea Sinlove, Arya Quinn, Celestia Von Claude Evergreen, and Ari Asschique.
The first episode in a new series of SnatchTalk where The Velvet Snatch once again covers  Newcastle Drag Idol. If you missed the show on Sunday 19th February 2023, here's the recap you need where she goes over each of the whopping 22 contestants, what the judges thought of them, and also who got through to week 2. There's also some exclusive interviews with judge Penni T and competition hopefuls Reese Wetherspoon, Costa Fortune, and O'Lyra.