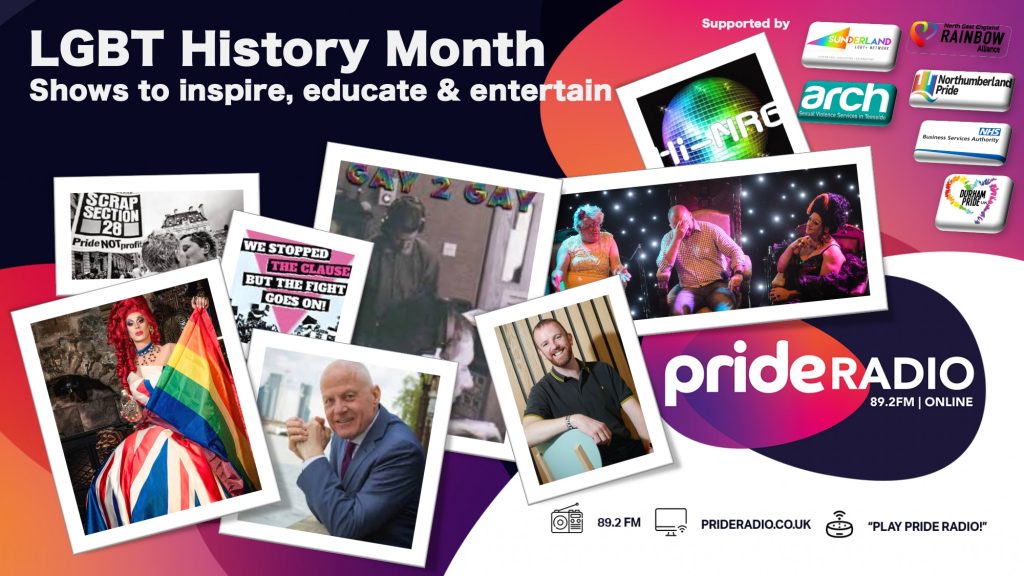 LGBT History Month 2021
February marks the start of LGBT History Month and here at Pride Radio we are really excited to be bringing you a series of special shows to help highlight, celebrate and educate about the LGBT community's past, present and future.
Together with Northumberland Pride, Sunderland LGBT+ Network, Durham Pride and Arch Teesside, and the NHS Business Service Authority – we will be broadcasting a mix of powerful, hard hitting, engaging and entertaining shows.
As part of our new series celebrating LGBT History Month, join Peter this Sunday at 7pm as he chats with Lord Michael Cashman CBE about his amazing life.
Michael talks candidly about being the victim of abuse as a young child; how he made headlines with the infamous first gay kiss in a soap (Eastenders) and the homophobia he faced afterwards; the fight to overturn Section 28; being a founding member of the Stonewall Group and his hopes and fears for the LGBT community.
It will make you laugh, cry and fill you with admiration for a life dedicated to LGBT rights and public service
Broadcast Sunday 7th February 2021
LGBT History Month continues on Pride Radio this Sunday at 7pm, as we chat to Drew Dalton, Chair of ReportOUT, about LOVE, LAW & SEXUALITY.  He'll be talking about religion, LGBT History, culture and the changes in law and legislation in the UK and around the world. Supported by NHS Business Services Authority.
Broadcast Sunday 14th February 2021
TAINTED LOVE as part of LGBT History Month. A special documentary on LGBT life in the 1980s – the music, the culture, the history – with Stu Smith & Tony Mac. Sponsored by NHS Business Services Authority 
Broadcast Sunday 21st February 2021