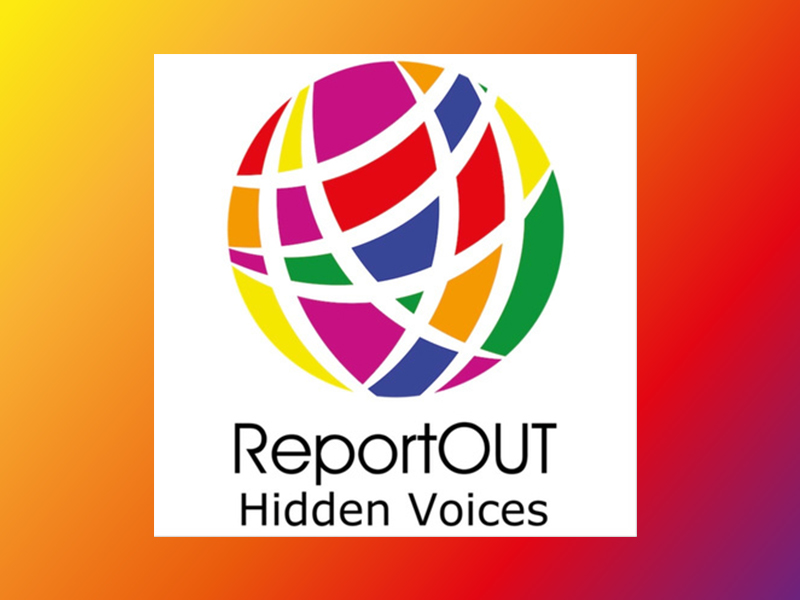 ReportOUT Hidden Voices
The 'Hidden Voices' Project is consisting of interviews with sexual and gender minorities who live in different nation states. In these interviews we discuss barriers they face as well as highlighting how they find resistance to them and their own personal experiences. We hope this inspires others to tell their stories, to give people hope and to educate others on the issues surrounding sexual and gender minorities communities around the world.
Lauren's Podcast Northern Ireland(Cat)
'To not be fearful is privilege'.
In this episode we speak to Cat (She/Her) a Northern-Irish Lesbian living in Kuala Lumpur. Cat joins us for talking about cofounding an underground Queer creative community in an interracial queer couple, experiencing white privilege in Malaysia and growing up in a colonized Northern Ireland. Read below to hear more about her:
Cat Brogan is the Northern Irish co-founder of a LGBT social centre in Kuala Lumpur, where she has been based since she received British Council funding in 2016 for a Spoken Word Project in Malaysia's capital
Cat hosted Camden LGBT forum's arts event Incite for a number of years, has featured at Polari in the Southbank Centre, Belfast Pride and LFest. She has performed in over 20 countries including Pakistan, Kenya, Cambodia, Philippines, Singapore, Nepal and New York.
Tedx speaker, Cat received an MA in Spoken Word education from Goldsmiths University. She has performed her poetry at festivals (Latitude, Electric Picnic, WOMAD), won Slams (BBC Edinburgh Fringe Poetry Slam, Farrago), been published in collections (The Golden Shovel) and featured on BBC & Irish Media.
Lauren's Podcast Indonesia (Erien)
"If I really am gay then I'm a sin in the eyes of God"
In this episode we speak to Erien (She/Her) a queer American-Indonesian all the way from Jakarta. Erien joins us for talking about managing microaggressions in the big city, her relationship between Islamic faith and queerness and the non-binary history of the Bugis people. Read below to hear more about her:
'My name's Erien, my pronouns are she/her, and I'm queer and American-Indonesian, living and working from Jakarta. I'm 20, freelancing writing for all kinds of subjects as well as teaching English. My favourite things to do are drawing and writing, along with playing video games. I haven't done a lot of writing for myself recently since the open mic that I usually go to has closed from the pandemic, but I have been drawing and playing as many games as I can fit into my schedule! I'm currently learning coding and Mandarin, and I'd love to make some games or stream video games someday — they're really important to me! My favourite music is probably rap or rock (I've recently been sucked back into Korean rap…), and the way I dress can only be described as 'disco eyesore'
Abbie's Podcast Hungary (Krisztián)
"They  thought being a gay person means you're always in high heels and ladies dresses, they did not have any knowledge…"
In this episode we speak to Krisztián (He/Him) a gay man from Hungary.  Krisztián discusses with us today about the barriers and resistance in Hungary and his own personal story of when he came out as a gay man to him family and friends. Krisztián also took part in a Coca Cola campaign called love is love with his partner and tells us about how this was challenged in Hungary. Read below to hear more about him:
'I first came out when I was 22 years old to one of my friends in a Starbucks café, she was very supportive, and it was such a relief for me. A year later I came out to my parents , it was hard because my family had no knowledge, they thought a gay man as the typical stereotype you see in the media and my father particularly needed time to accept it. I also took part in the love is love campaign by coca cola and after this my father asked to meet with my partner. We took part in this campaign to show we are here, we exist, and coca cola encouraged us to hold each other and show the world our love for each other'
Abbie's Podcast Columbia (Germán)
"My father said I'm not okay with it but that is my job as a father to educate myself, you and me, we are fine and I love you"
In this episode we speak to Germán (He/Him) a gay man from Columbia. Germán discusses with us today his own personal story as well as the barriers and resistance he found in Columbia around religion. Germán moved to Hungary in 2012 where he took part in the love is love Coca Cola campaign with his partner. Read below to hear more about him:
'I was working in Mexico for work which was a time where I was finding myself, I was meeting gay people and exploring that side of me. So, when I came back from Mexico to Columbia it was hard for me to go back inside the closet, so I started by coming out to some friends, they were very supportive but hurt that I did not tell them sooner. Although my parents dragged me out of the closet when I was 22 in a nice way, my father was not okay about it at first, but he loves me regardless and my mother was great, but she had concerns surrounding HIV and Aids. In Columbia although it's a religious country it isn't an issue being gay and people are open about their sexuality. However, there is different regions in Columbia which are very driven by masculinity, but people are still open their, there is some issues surrounding religion but not the Columbia's culture itself. Before I moved to Hungary in 2012 it was a friendly state for the LGBTQ community however since the coco cola campaign it seems LGBTQ are the government's target for hate speech'
Abbie's Podcast Nigeria (Ify)
'I do not believe we should fight the government physically, but we should challenge them legally, we have to sensitise the masses'.
In this episode we speak to Ify (He/Him) a gay man from Nigeria. Ify discusses the barriers and resistance within Nigeria surrounding sexual and gender minorities as well as his own personal story. Ify talks about how he wants to go back one day to Nigeria to help sexual and gender minorities within his community and to challenge the government with the issues surrounding this. Read below to hear more about him:
'In Nigeria we do not call it LGBTQ we call it homosexuals; we normally hide our sexuality because the LGBTQ community are suffering. The LGBTQ community there are being imprisoned, raped, beaten, and sometimes killed. The religious ideology in Nigeria plays a big role in discriminating against us and people say god did not condemn us to live like this. There are no safe zones, there is no way out we must hide everything we do, we may meet in hotels, but we have to be careful people do not call the authorities. Therefore, I want to challenge the government back home and make a platform for the LGBTQ community. However, people already working underground to help to LGBTQ community must be careful as it is against the law. Because of terrible experiences and when my mother suspected I was gay but knew after I was attacked and told me I can't continue living like this because she was scared for me, so I left Nigeria in 2011. Although I will go back some day because I want to make a difference in my home country so people can live freely'
Abbie's Podcast Pakistani (Shameel)
'My mother believes being with a woman will change things'.
In this episode we speak to Shameel (He/Him) a gay man from Pakistani. Shameel talks to us about his life in Pakistani and how his family feel about his homosexuality. We also discussed the barriers in Pakistani and also the support groups that are there to help people from different sexual and gender minorities. Read below to hear more about him:
'I'm 31 years old, I am currently studying my masters in Germany. I first came out to my sister and my mother, however being gay is against their religion and beliefs so they believe if I marry a woman I will change. On the streets, you can't speak out about your sexuality or practice homosexuality or you may be cast out, frowned upon or punished. However, there are support groups in Pakistani that people can reach out to for help and support, I choose to handle it myself and had some support from friends. I choose to move to Germany not only for better opportunities but to be able to live freely as a gay man'.
Steevo's Podcast Konstantin- Krasnodar (Russia)
"The main advice to transgender people in Russia is to not lose hope! " 
In this episode we speak with Konstantin a transgender man, a people rights activist in Russia and website designer. Konstantin is talking about his life in a village, how unsafe situations forced him, like many other people in Russia to move from the place where he was living to a safer city. He tells us about his activism and all the issues that sexual and gender minority people are facing in Russia. Read below to hear more about him:
'When I was young there was no information about transgender people. Now there is a lot of information about this topic that I found on the internet. I am grateful for my sister's support. It is really important for trans people to understand who they are, to have more information about being a transgender person and to find some support too. This is really important for me. That is what I focus on with my activism…
Now unfortunately our legislation is developing in the direction of restricting everything that can be restricted. I think Pride in Russia is my dream!'
Thushara's Podcast (written by Steevo) Kanav – Kolkata ( India )
"Society is really homophobic, queer phobic, transphobic, and bi-phobic. Maybe what we need is some sort of awareness… We have to move forward not backward "
In this episode we speak with Kanav a cisgender homosexual man who lives with his family in Kolkata. Kanav is talking about how different it was for him when he was studying in Canada then coming back to live in India where there is a significant amount of homophobia present among the population. His sharing with us how he came out to his family, how things are changing in India for sexual and gender minorities specially with the help of social medias and what issues you are facing living in India. Read below to hear more about him:
"Even today I have to hide my identity from certain people. I have to be very careful about who knows what about me, who I can be open to, who is safe and who is not. This is something I have been doing for as far as I can remember and I might be doing it for a long time… I have seen more people, allies talking about LGBTQ people in a positive way specially on social media. Bollywood, which is a really important media for changing social perception, has released 2 or 3 movies that talk about same sex in India which is very bold I would say. These movies are watched by millions of Indians'.
Thushara's Podcast (written by Steevo) Waseem – ( South Africa )
"There has to be a more social awareness campaign with regards to adults. You can't only focus on the youth because if you look at the crimes : adults are predominantly the roots of it".
In this episode we speak to Waseem one of the first South African openly gay Muslim broadcaster, activist. He talks about his outing to his parents, his family and the issues he faced being an openly gay Muslim. Read below to hear more about him:
" When you are in a facility that specializes in LGBTQIA, that does workshops and retreat, it gives you knowledge,  helps you socialise, it Is a completely different experience. 
The lockdown has been really difficult for a lot of LGBTQIA people depending on the class you are on. I am lucky to be in a privileged class. In South Africa gay white men would have be more privileged and trans black women would be the most disadvantaged. Even if it has been a while since the apartheid our country is still geographically built like that : you would find particular suburbs of a particular race group. You have class on the top of that, education privileges, transport privileges.
You rarely find LGBTQ facilities in areas predominantly occupied by black and brown people."
Sarah's Podcast (Written by Abbie) Trinidad Tobago (Jason)
'It is a constant barrage of bombardment on your self-identity'
In this episode we speak to Jason (He/Him) a gay man from Trinidad Tobago. Jason speaks about his life in Tobago and how he has been a victim to physical and verbal abuse due to his sexuality. Jason talks about the barriers and resistance and how he has overcome them himself. Read below to hear more about him:
'My country is quite diverse is in multiculturalism and its people and where I am from there is no protection to be myself. I was open about my sexuality and that came with consequences like discrimination and thrown out from my family home however my grandfather was accepting so I lived with him for 10 years. The west indies laws are still archaic, they have buggery laws where you can be caught being with some of the same sex for 25 years. If you are discriminated or physically hurt for your homosexuality the police will walk away and it is not logged. An example of this is in 2006 to 2013 there was trans female prostitutes being beaten and killed on the streets and showing the police did not protect those in the LGBTQ community. I have had many altercations because of my sexuality including being stabbed in my leg. However, I did have some support through my grandfather, small supportive groups and I had some supportive friends'